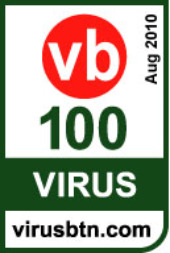 The folks at Virus Bulletin magazine have just published their latest edition, including details of their most recent comparative test of anti-malware products.
Virus Bulletin tested an astonishing 54 products from different vendors, examining their ability to detect 100% of the in-the-wild viruses without false alarming – this time on the Windows Vista platform (Business Edition, SP 2).
The newly released Sophos Endpoint Security and Control 9.5.0 (who names our products? Couldn't they have made that name a bit longer?) performed admirably, and was given the prestigious VB100 award for detecting all the in-the-wild viruses – in both on-demand and on-access modes – without false alarming.
The magazine's testing team also found that Sophos achieved a perfect 100% score against polymorphic malware. Sophos outperformed a number of other products which failed to pass the tests.
As you may be aware, the new version of Sophos's solution includes Live Protection, which uses in-the-cloud technology to deliver efficient, proactive security – but this isn't included in Virus Bulletin's current testing regime.
You can find full details of the test in the August 2010 edition of Virus Bulletin magazine (Sorry, I think you may need to be a paid-up VB subscriber to read it).
Don't forget that you can read more about Sophos's long track record in independent comparative tests on our reviews page.