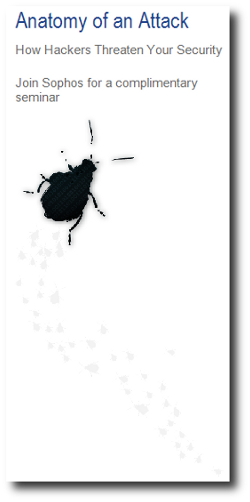 I am pleased to invite those of you in the greater New York City and Toronto areas to my seminars next week, titled "Anatomy of an Attack: How hackers threaten your security."
We have been traveling around North America and Europe delivering these educational events for about a year and a half now and have received terrific feedback from attendees. It's not a sales pitch; in fact, we hardly mention our products at all during the seminar.
I will present the who, why, and how of modern cyberattacks and provide insight into some of the larger threats that we have faced over the last two years. The goal is to provide you with the knowledge necessary to develop effective strategies to better defend your enterprise.
After our lunch break, I will also demonstrate some live malware and show some of the techniques used by attackers to inject that malware into victim PCs. Finally, I provide some practical advice on how to get more from your IT investment and reduce the risk of these techniques being used to compromise your network.
For the first time, we are also offering an optional afternoon session that will provide additional information from Sophos experts on how our technologies can be used to combat the threat.
In New York City, John Metzger will present his "Free Compliance Forum – Tips and tricks for jumpstarting your compliance project." John is an expert in data protection technologies and consults with many Sophos customers on the effective use of data protection and compliance technology. To join us, register for our August 17th event in New York City.
In Toronto, John Shier of Sophos Canada will be presenting "Stopping the Threat: Effective Security Solutions & Strategies" as the afternoon session. John is a seasoned Sales Engineer and has experience helping Sophos customers conquer the threat in the wild. John will demonstrate key technologies available in Sophos products that defend against the very attacks I present in the morning session. If you would like to join us, please register for our August 19th event in Toronto.
We hope those of you in the New York and Toronto areas who would like to learn more about the security space will make the time to attend these educational sessions.