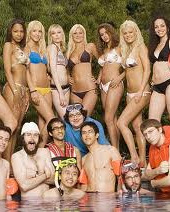 Hackers are spamming out malware-infected emails, tricking recipients into believing that they are being invited to enter auditions for the reality TV show "Beauty and the Geek".
The show, which pairs together beautiful (but perhaps slightly dim) women with intelligent (but possibly rather dorky and socially inept) males, is a worldwide hit – matching the likes of Playboy models and cocktail waitresses with astro-physicists and IT security bloggers.
Of course, some fame and a cash prize is probably enough to attract many to consider appearing on the TV programme.
But an email being widely spammed out, claims to be looking for new recruits for the US show.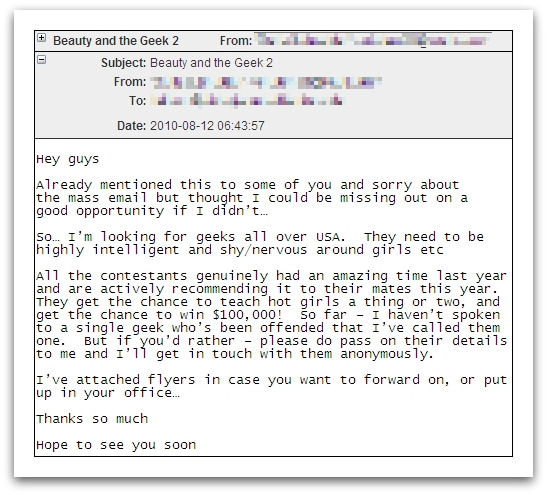 Part of the email, which has the subject line "Beauty and the Geek 2", reads:
So... I'm looking for geeks all over USA. They need to be highly intelligent and shy/nervous around girls etc

All the contestants genuinely had an amazing time last year and are actively recommending it to their mates this year. They get the chance to teach hot girls a thing or two, and get the chance to win $100,000! So far - I haven't spoken to a single geek who's been offended that I've called them one. But if you'd rather - please do pass on their details to me and I'll get in touch with them anonymously.

I've attached flyers in case you want to forward on, or put up in your office...
However, the attached file (flyers.zip) really contains not promotional material for the TV show – but a file called flyers.exe.
That executable file is malware, of course, exposing the recipient's computer to attack. Sophos detects the ZIP file as Mal/BredoZp-A) and its contents as Troj/Zbot-VX.
Don't be a bimbo. Always treat unsolicited emails with suspicion – the smart thing to do is to delete this email without opening the attachment, and ensure that your anti-virus software is updated.