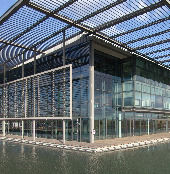 Earlier this year, Sophos held a conference in a swanky Berlin hotel, bringing together most of its sales staff (and a couple of interlopers like me) from around the world for whatever it is that sales people do when they all get together.
As the event drew to a close (and just before hundreds of us got stranded by a volcano) the-powers-that-be ran a sweepstake with a galaxy of prizes.
One of the less prestigious prizes was the chance to appear in a video on my blog. And so it was that earlier this month, Marco Eggerling from our Zurich office visited me.
As will be obvious to anyone who watches the following YouTube video…
1. I am not very good with a camera.
2. I should really have thought of a better plot. Perhaps doing something more with Marco than just walking him around the building introducing him to people would have been more interesting. Hmm.
(Enjoy this video? You can check out more on the SophosLabs YouTube channel and subscribe if you like)
The video has really nothing to do with computer security at all, but will give you a rare glimpse behind the scenes at Sophos.
Thanks to Marco for being a good sport.