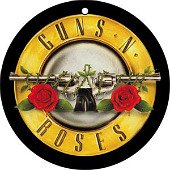 A spokesman for the Guns N' Roses rock group has confirmed that lead singer Axl Rose's Twitter account has been hacked, and that their European tour is proceeding.
Headbangers were alarmed on Sunday to see a message on frontman Axl Rose's Twitter page that all upcoming performances were cancelled, and retweeted the message:
All upcoming Guns N' Roses dates are officially cancelled. Please contact your place of purchase for any refunds.
However, some fans were skeptical about the announcement that future performance dates had been axed.
Note, for instance, that Axl Rose isn't that regular a poster on Twitter. In fact, before this latest announcement the last update on his Twitter account dates from May 20th, and in fact he's only ever posted on the system (if we include this most recent message) 36 times.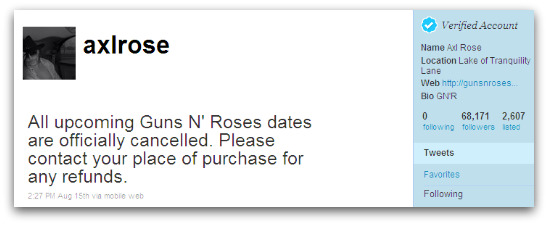 Furthermore, whereas Axl Rose's previous Twitter updates via the Twitter for iPhone application, this latest announcement comes "via mobile web" (which means it was posted from mobile.twitter.com).
In the past, well known figures such as Lindsay Lohan, British politician Ed Miliband, John C Dvorak and Britney Spears, as well as organisations such as the New York Times and BP America, have had their Twitter accounts broken into by hackers.
At the time of writing, Axl Rose's account still carries the announcement that tour dates are cancelled, and no retraction has been published.
Whether this is because the bandana-wearing cauterwauling wild man of rock hasn't yet regained control of his Twitter account, or perhaps simply doesn't care that a fraudulent message has been sent to his 68,000 followers, isn't at this point obvious.
Don't forget, you should always choose a hard-to-guess non-dictionary word as your Twitter password, and never use the same password on multiple websites. Also, be on your guard against phishing sites and ensure that your computer is running up-to-date anti-virus software to protect against keylogging spyware which may attempt to steal your information.