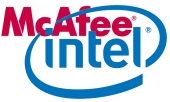 The big news in the IT security industry today is the announcement that Intel plans to acquire McAfee for a jaw-dropping $7.68 billion.
Yes, that's "billion". Oh to have such pocket money.
Of course, those of us with long memories will know that Intel is no stranger to the computer security industry.
Indeed they used to have their own anti-virus product (Intel LanDesk Virus Protect) which they sold to Symantec in 1998.

Now, Intel is purchasing Symantec's arch-enemy McAfee and re-entering the business.
It's like they're dancing the hokey-cokey. # You put your left leg in, your left leg out, in out in out, and you shake it all about… #
It's too early to say what the impact of this acquisition will mean to McAfee's customers, but there will no doubt be some happy McAfee shareholders today as the price rises to its highest level since the late 1990s.