Apple has patched a number of security holes in its Mac OS X operating system, including fixes for vulnerabilities that could be exploited by malicious hackers.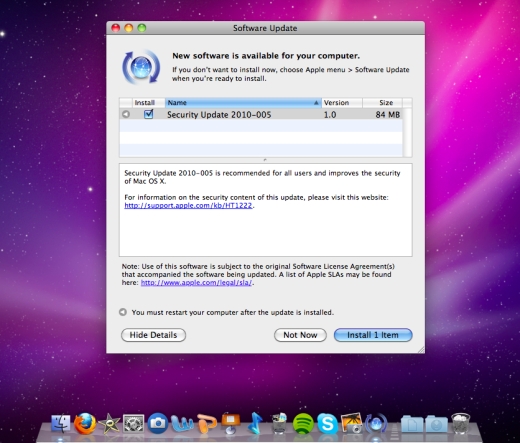 Vulnerabilities covered by this latest update include security holes which cybercriminals could exploit with maliciously-crafted embedded fonts, PDFs and PNG files.
More details on the vulnerabilities covered by Apple's 84MB of security goodness are included in their security advisory, and it's clear that Mac OS X users would be wise to apply the security patch as soon as possible.
It's important that Mac users realise that they aren't protected by magic, and the fact that Apple regularly issues security updates reflects that owners of their computers have to be security-savvy just like Windows users. Yes, there may be less malicious attacks against Apple Mac computers but that doesn't mean there are no attacks.
Security Update 2010-005 can either be installed via the automated Software Update process, or downloaded directly from Apple's website.