Cybercriminals have spammed out a widespread email attack, distributing malware in messages pretending to come from Fedex.
The emails, which have subject lines beginning "Fedex Tracking number" followed by a random reference number, pretend to come from named personnel inside "Fedex Support" and claim that the company was unable to deliver a package on the 27th of July.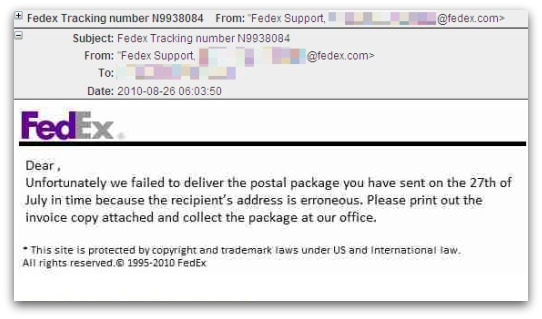 Other emails being sent in the attack use a subject line of "Fedex Invoice copy" and "Fedex Item Status", both followed by a random reference number.
Unlike many of the other Fedex-related malware attacks we have seen in the past, the emails carry the message about the failed delivery in the form of an image rather than text – possibly in an attempt to try and defeat more rudimentary anti-spam filters.
Attached to the emails is a file called
FEDEXInvoiceEE<random number>OP.zip
which Sophos detects as Troj/Invo-Zip. Inside the file is a Trojan horse called Troj/Mdrop-CVP, capable of infecting Windows computers.
A quick glance in a sample of our spam traps reveals just how many messages we are intercepting in a matter of minutes: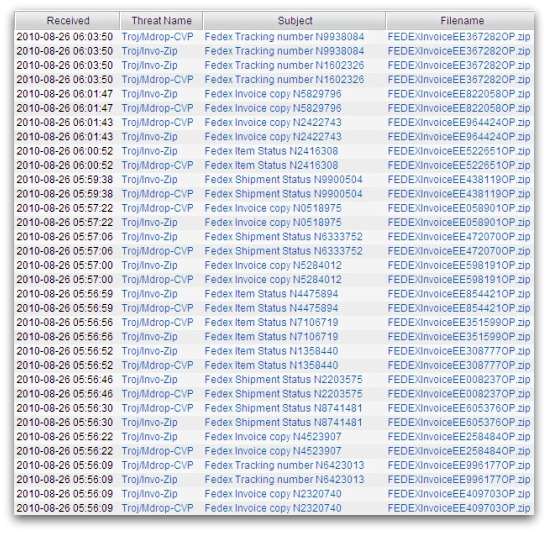 Of course, Fedex has no connection with this malware campaign, beyond having its brandname tarnished by the hacking gang.
Make sure that you, your friends and your colleagues are wise to scams like this – and don't make the mistake of clicking on suspicious attachments.