It's possible that some of you are finding the seemingly endless wave of spammed-out scams on Facebook rather predictable. Clearly they must be working for the bad guys, though. Otherwise, why would they be putting effort into creating new variants of the scams to outsmart Facebook users into passing them on?
Here's one of the latest – which claims to be something that many Facebook users would want – an "I Don't Care Button".

Finally!..The I Dont Care Button Is Here! Get It Now For Free...
The I Don't Care Button Is Here
Get It Now And Show That You Don't Care!
96% Wanted This and Now Its Here!.
If you were eager to show your general meh-ness about someone's post on Facebook you might be keen for an "I Don't Care" button, but clicking on the link takes you to a familiar-looking webpage which encourages you to "like" it and share the link with your friends, before you will be given anything else.
A clear reason to be suspicious.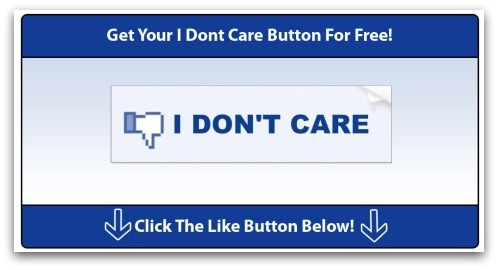 And if you're a regular reader of this blog there should have been warning bells ringing in your head – after all, it was just last month that we warned about the "Dislike button" scam we saw spreading virally across Facebook.
DownloadSquad wrote back in April about a genuine "I Don't Care" button available in the form of an extension for the Google Chrome browser, but there's no official "Dislike" or "I Don't Care" option within Facebook.
Don't make life easy for the scammers, and refuse to help them take advantage of your Facebook account. Always question what you are "liking" and "sharing" with your online friends.
If you're on Facebook, and want to learn more about security threats on the social network and elsewhere on the internet, join the Sophos Facebook page.