Ever since I wrote about the fact that most malware works just fine in Windows 7 I am frequently asked for the other side of the story. Fortunately Maria Varmazis was in our Vancouver office recently and asked me to record a video explaining the top 5 security advancements in Windows 7. Here it is.
Enjoy this video? Subscribe to the SophosLabs channel on YouTube.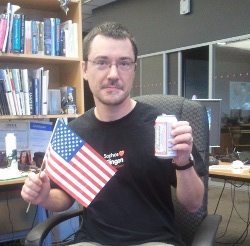 On another note, I took a lot of grief for my blog post on Canada Day when I reneged on my promise to post a photo of myself on American Independence Day demonstrating my dual-nationality. I messed up and didn't get around to it on July 4th, so here's my celebration of American Labor Day instead. Have a great holiday weekend, fellow North Americans, and I will post more after the holiday.