With it being a long holiday weekend in North America there are probably plenty of people who will be spending some extra time on Facebook, and you can bet your bottom dollar that the scammers will be up there taking advantage of the unwary.
Take this scam which I spotted today, for instance.
It start like this. You notice one of your Facebook friends has shared a link to a Facebook page called:
10 Things Adults NEVER Tell Their Kids !!

It may sound exactly the kind of fun link that your friends have shared with you in the past – and you may be tempted to click and find out some more. After all, you'll probably get a few minutes' entertainment of out of it, right?
Bzzt. Wrong.
Clicking on the link takes you to a Facebook page all right, but it asks you to jump through various hoops ("liking" the page, and sharing the link with your Facebook friends) before it will be prepared to reveal the things that adults never tell their kids.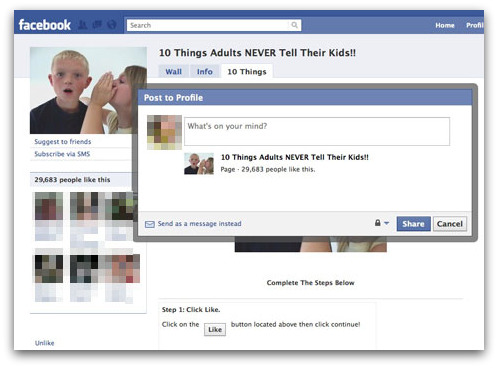 And if you do like and share the link, you're playing into the hands of the scammers and doing their dirty work for them. After all, you're helping the link spread virally to others on the social network.
If you're prepared to do that you'll be taken to a Blogspot blog about the lies parents tell, but an online survey will pop up in front of the content demanding that you complete it before allowing you to read on.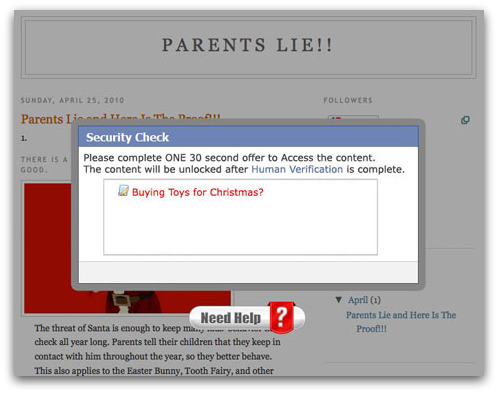 And, as regular readers of the Clu-blog should know by now, the scammers earn commision for every survey completed. A nice little earner for them, and you've just increased their chances of making more cash by forwarding their link to others.
Don't make life easy for the scammers, and refuse to promote these survey scams. Always question what you are "liking" and "sharing" with your online friends.
If you're on Facebook, and want to learn more about security threats on the social network and elsewhere on the internet, join the Sophos Facebook page.