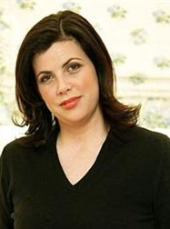 Plummy-voiced property crumpet Kirstie Allsopp has fallen foul of hackers on Twitter, who posted messages pointing to free iPad scams this weekend from her account.
The British TV presenter, best known for her Channel 4 property programmes "Location, Location, Location" and "Kirstie's Homemade Home", only found out that her account had been hacked when some of her 47,000 Twitter followers alerted her to the out-of-character tweets.
The links took unsuspecting fans to webpages which encouraged them to apply for free iPads by handing over personal information and signing up for scams that charged £4.50 per week.
Kitten-heeled Kirstie had deleted all of the offending tweets from Twitter by the time I went looking for them this morning, but I managed to track down two examples that had been cached elsewhere:
free ipads!!! [link removed]

omg free ipad, witha train skin =D [link removed]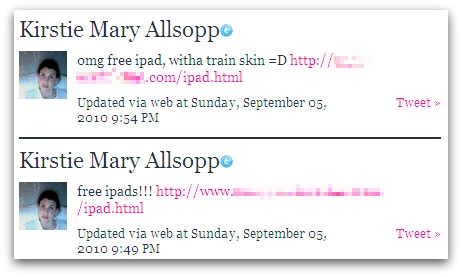 You'll notice that the spam messages say that they were sent "via web", suggesting that it wasn't a third-party application or linked website that was used to send the messages. The most likely conclusion is that Kirstie Allsopp's Twitter password was stolen via phishing or spyware infection on her computer, or that she was using the same password on multiple websites – which is never a good idea.
Kirstie says that she has now changed her Twitter password (hopefully she wasn't using the old one on anywhere else on the net), and deleted the iPad-related messages. To my mind she would also be sensible to scan her computer with an up-to-date anti-virus product too.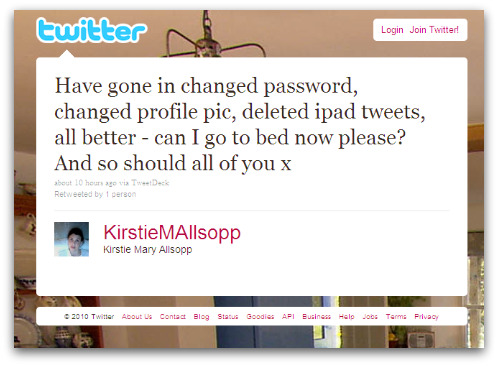 In one message she described her new Twitter profile picture thus:
that's me, in bed on laptop, p***** off with hackers!
Other celebrities who have had their Twitter accounts hacked include Axl Rose, politican Ed Miliband and Britney Spears.
Remember, you should always choose a non-dictionary word that's hard to guess as your Twitter password, and never use the same password on multiple websites.
Also, be on your guard against phishing sites and ensure that your computer is running up-to-date anti-virus software to protect against keylogging spyware which may attempt to steal your information.
Finally, consider carefully which third-party applications and websites you allow to connect with your Twitter account.