I'd be rich! Not to have my blog turn into the 24/7 social-media-scam network, but another Facebook scam is on the loose. This one is called "OMG! Look What this Kid did to his School after being Expelled!" and follows a template similar to that of the ongoing string of spams plaguing Facebook and other social networks.

Already over 56,000 Facebook users have "liked" this page. I have notified Facebook staff of the issue. Facebook has been taking steps to slow down the deluge of crap coming downhill onto their users, most recently making URLs in comments on people's profiles unclickable. This may be in reaction to Apple's new Ping social network, which launched with unclickable links in comments from the start.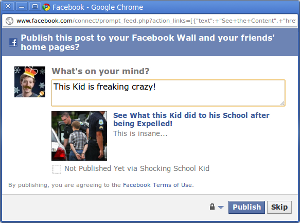 Surprisingly, this attack does not automatically post to your wall. It prompts you to add your own comments and lets you skip the wall post. I suppose the ultimate goal is to get you to sign up for one of their offers, so if you insist on not helping spread their message, so be it.
You can see in the screenshot that the name of the application is "Shocking School Kid." Perhaps Facebook should take more notes from Apple and have a review process before new applications can be published. I don't think a screener would approve an app called "Shocking School Kid."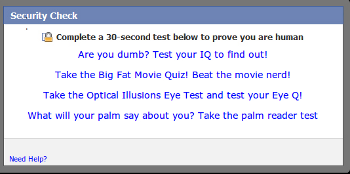 The final part of the scam is for them to get paid when you take affiliate surveys. To see this "OMG" moment you will need to choose one of the presented options and sign up for a paid SMS service. We have known for years that the cellular companies have no ethics, so they are a great payment service to use for scams.
This popup is designed to appear to still be part of Facebook. People who reach this stage should probably choose option 1, "Are you dumb? Test your IQ to find out!" I think I can answer that one without taking the survey.
if you want to learn more about security threats on the social network and elsewhere on the internet, join the Sophos Facebook page.
Thanks to @facecrooks for the heads-up.