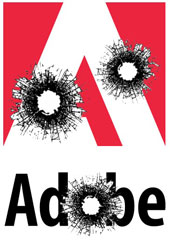 Adobe has issued a security advisory about an as-yet unpatched vulnerability in its popular Flash Player software, affecting users of Windows, Mac, Linux, Solaris and even Google Android.
The critical security hole could allow an attacker to take control of your computer and run malicious code.
The firm also confirmed that the vulnerability also affects Adobe Reader 9.3.4 for Windows, Mac and UNIX, and Adobe Acrobat 9.3.4 and earlier versions for Windows and Mac. The reason that Acrobat and Reader are also affected is because the programs support Flash content inside PDF files
The new warnings follow closely after news last week of another vulnerability in Reader and Acrobat that was being exploited by malware authors.
Adobe has announced that an update for Flash Player tackling the latest vulnerability is expected to be available during the week of September 27, and an update for Acrobat and Reader will be available the following week.
Last month, Sophos blogger Chet Wisniewski interviewed Brad Arkin, Adobe's Senior Director of Product Security and Privacy, about the firm's security strategy and their upcoming sandboxing technology.
You can also download the interview directly in MP3 format.
Malicious hackers are clearly examining Adobe's products intently, hunting for security holes which they can abuse. The wide adoption of Adobe's software by millions of users around the world has become something of a double-edged sword for the company – while they're been enormously successful, they've also ended up in the firing line for cybercriminals wanting to exploit their widely-used code.