Scam messages appearing to offer free Facebook credits are being seen on Facebook. Here's an example:

Want Free Facebook credits go to <link>
Free Faceebook credits
Want free facebook credits?
(Note that they spell Facebook incorrectly in many of the examples as "Faceebook")
Facebook Credits are the currency used on Facebook to buy virtual goods inside games and applications on the Facebook platform. Normally you purchase them with your credit card or PayPal, but clearly there are plenty of Facebook fanatics who would love to receive them for no charge.
So, it's not a surprise that some users are clicking on the link offering free Facebook credits, and being taken to the following Facebook page.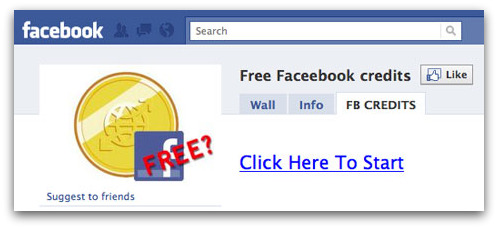 As we've seen in the past, this Facebook page has been created with the intention of getting users into publicising the link to their other Facebook friends.
The page uses a clickjacking technique, whereby clicking on the red and blue boxes will actually invisibly update your Facebook profile with references about how to get free Facebook credits.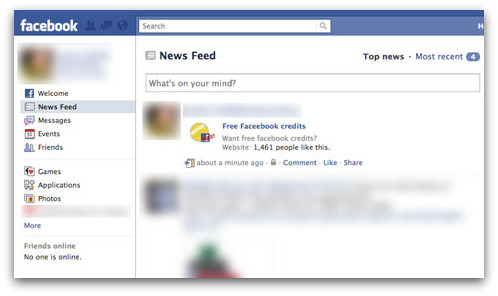 If you do agree to click on the red and blue boxes, you'll be taken to a page not hosted on the Facebook website (but amateurishly pretending to be a legitimate Facebook page) still claiming to offer free Facebook credits.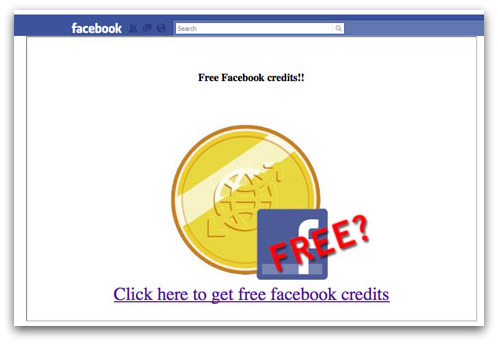 But if you persist, and continue to click on the links you will find that you are visiting webpages that ask you to sign up for a rewards program or take online surveys. The scammers behind the Facebook Credits messages earn 50 cent commission for every person that enters their information and verifies their email address, and another 50 cents for every person that completes an offer.
Have you received any more Facebook credits after all this? Sadly, no.
But your profile has been updated – in order to advertise the scam further. Check your Facebook profile, and remove references to the Free Facebook credits offer from your feed, unlike the page, and be more cautious in future.
Be on your guard against suspicious posts made by your Facebook friends, and if you want to learn more about security threats on the social network and elsewhere on the internet, join the Sophos Facebook page.