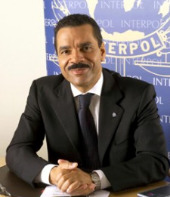 Ronald Noble, the Secretary General of Interpol, has described cybercrime as "one of the most dangerous criminal threats ever" in a speech he gave last week at a conference in Hong Kong.
In the speech (which can be downloaded as a PDF from Interpol's website), Noble spoke of how he hoped the web would evolve from the pretty-much anonymous model we have today, to a system where a "verified name service" would be created, helping build greater confidence that we are talking to who we think we're talking to.
And it seems that Ronald Noble has a very personal reason for wanting better identity authentication on the net, as he revealed that Interpol's Information Security Incident Response Team had discovered two fake Facebook profiles, posing as Interpol's Secretary General:

According to Noble, "one of the impersonators was using this profile to obtain information on fugitives targeted during our recent Operation Infra Red.. This Operation was bringing investigators from 29 member countries at the Interpol General Secretariat to exchange information on international fugitives and lead to more than 130 arrests in 32 countries."
Operation Infra Red targeted criminals involved in murder, paedophilia and drug trafficking amongst other crimes.
It's not known if the authorities identified who had set up these fake Facebook accounts, or how successful the interlopers might have been in gathering information regarding the investigations, but it's a timely reminder to all of us that not everyone may be who they claim to be on the internet.
If you want to learn more about security threats on the social network and elsewhere on the internet, join the Sophos Facebook page.