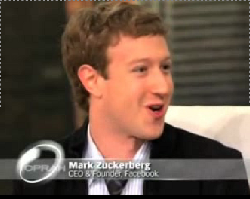 When the time comes to sum up what 2010 meant to many internet users it may boil down to one word… Privacy. It all began in December 2009 when Eric Schmidt, CEO of Google, said during an interview on CNBC, "If you have something that you don't want anyone to know, maybe you shouldn't be doing it in the first place." Clearly this is not just an isolated comment, as Marissa Mayer, a VP at Google, responded to questions from Digg users in a similar vein, saying "I think that over time, on the internet, there will be less anonymity. And I actually think that's good."
Of course Facebook has been pushing the boundaries of privacy for quite some time now. In January Mark Zuckerberg made statements implying that the public's view of privacy had evolved and Facebook was simply changing its policies to reflect the views of their customers.
This week "The Social Network," a movie about the formation and development of Facebook, was released. The film does not paint a flattering picture of Mr. Zuckerberg and his zealous pursuit of worldwide social media dominance.
Seemingly to offset the media storm of the portrayal of his alleged bad behavior, Mark announced on the Oprah Winfrey Show that he was donating $100 million to Newark schools. Facebook's spokespeople deny that the donation is related to the release of the film, but you can read between the lines.
It is difficult to know for sure how much of the film is true, but regardless, Zuckerberg does not seem happy that so much of his private life is out there for all the world to see. The Wall Street Journal reported that Facebook made attempts to "massage the script." Apparently Zuckerberg's stance on privacy is "Do as I say, not as I do."
What can we learn from this? We should probably heed the advice of Google's Eric Schmidt, and not put aspects of our lives we wish to keep private on the internet. It is disturbing that it has come down to such drastic self-censorship, but that isn't the worst advice I have heard on the subject.
If your company or your friends and family are sharing information through social networks, you may wish to download our Social Media Security Toolkit. We provide a bunch of free tools and information you can use to help educate folks on safer social networking behavior. You can also find other helpful resources on the Security Hub at http://www.sophos.com/security where we post the most important stories and resources daily.