If you're in Oxford this Thursday evening, and kicking your heels for something to do, why not learn about cybercrime on social networks?
I'm honoured to have been invited by the Oxfordshire chapter of the British Computer Society, to present at their meeting all about how social networking sites like Facebook and Twitter have become the target for financially-motivated hackers.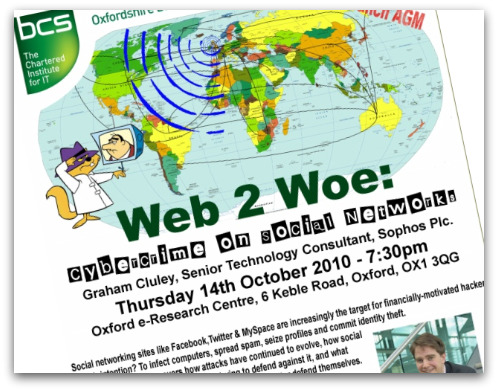 I can promise you details on how cybercriminals infect computers, spread spam, seize social networking profiles and commit identity theft – and I'll even have some real-life demos of attacks caught in the act.
The event kicks off proper at 7.30pm, but turn up at 7.00pm and those lovely fellows from the BCS will be able to offer you wine, sandwiches and some light refreshments. And don't worry if you're not a member of the British Computer Society, non-members are very welcome and there's no charge for attendance.
More details can be found on the BCS's website, but I guess the main thing to do is to make sure you have the address:
Oxford e-Research Centre,
6 Keble Road
Oxford OX1 3QG

Thursday 14th October 2010
I hope to see some of you there!