Iain Lobban, director of the UK Government's Communications Headquarters (better known as GCHQ), is making the headlines today after he spoke about the threat posed by internet attacks from cybercriminals and hostile nations.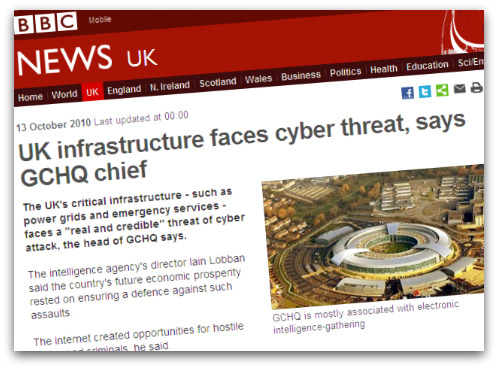 British government departments receive more than 20,000 malicious emails every month, with 1,000 per month believed to be specifically targeted against government networks, Mr Lobban told the International Institute for Strategic Studies.
Mr Lobban's speech comes in the run-up to British government cutbacks expected to be announced next week. Earlier today, senior RAF officers were reported to be warning that the UK would be unable to defend its airspace if defence cuts were made.
Mr Lobban acknowledged that different parties would be jostling for position, protecting their interests, but emphasised the need for internet security:
"Clearly they will also be deciding how they trade off against other spending priorities... Just because I, as a national security official, am giving a speech about cyber, I don't want you to take away the impression that it is solely a national security or defence issue. It goes to the heart of our economic well-being and national interest."
It's interesting to see one of our key intelligence agencies talking relatively openly about the threats government departments face from the internet on a daily basis.
To Mr Lobban's credit, he also made a point which many more excitable members of the media would be wise to hear, pointing out that it was "very, very hard" to tell which state might be behind an attack.
Hear hear.