Apple today released the latest Java updates for OS X 10.5 (Leopard) and 10.6 (Snow Leopard). You may wish to save a copy of this blog for posterity as I am about to step out of character.
Apple did a great job getting this fix out quickly. Congratulations.
Today's update brings Oracle Java up to 1.6 update 22, which was released on October 12th, 2010. This may be one of the fastest turnarounds from Apple on a Java patch. It is one of the more important updates as well. Java is being heavily attacked in the wild, including flaws that are fixed in this release.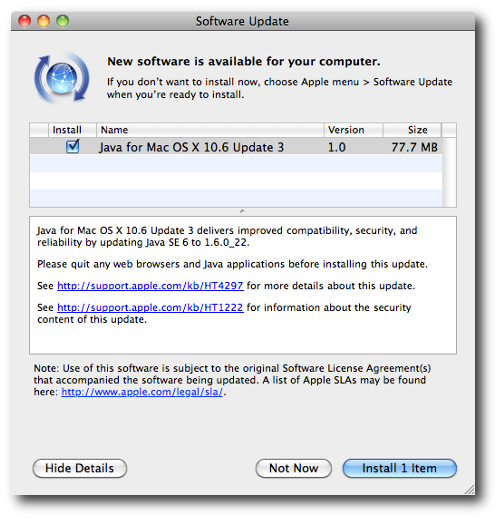 The JVM weighs in just shy of 80 megabytes, so you may wish to wait until you are on WiFi or LAN before you update. I wasn't able to determine how big the update is for Leopard as I no longer have Macs running it.
Historically, Apple's inclusion of updates for Flash and Java has been a bit backwards. Last summer when they released Snow Leopard, they actually downgraded your Flash player as part of the install.
But it appears Apple has turned the ship around. If they can continue to release updates soon after they are made available and provide this service as an integral part of their OS this could be a significant advantage.