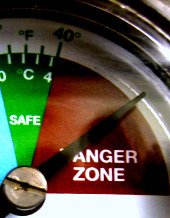 Microsoft has warned users of all supported versions of the Internet Explorer browser that an unpatched vulnerability exists in the product that is being actively exploited by malicious hackers in targeted attacks.
The zero-day vulnerability, described in a Microsoft's security advisory, allows cybercriminals to execute code on remote users' computers without their permission.
In other words, simply clicking on a link in an email could take you to a webpage which would silently install malicious code (such as a backdoor Trojan horse) onto your computer. In short, you could be one click away from having a hacker access your computer or comandeer it into being part of a botnet.
Sophos is adding detection of the malicious webapges as Mal/20103962-A, and the Trojan horse that we have seen being downloaded as Troj/GIFDldr-A.
According to Microsoft's advisory, Data Execution Prevention (DEP) – which is enabled by default in Internet Explorer 8 on Windows XP SP3, Windows Vista SP1, Windows Vista SP2, and Windows 7 – helps to protect against the attacks.
All eyes will now be on Microsoft to see how quickly they can issue a fix for this vulnerability – it would certainly be impressive if they managed to roll-out a patch in time for next Tuesday's "Patch Tuesday", but that may be a little optimistic.