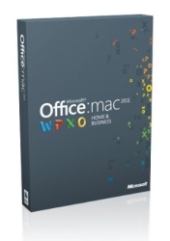 Yesterday's latest batch of Patch Tuesday security fixes from Microsoft will have made their presence felt amongst many Windows users, but that doesn't mean that Mac users get away scot free.
Mac OS X users may think that by not running Windows they're untouched by flaws in software written by Microsoft, but of course the company makes much more than just an operating system.
A couple of weeks ago, Microsoft issued a major new version of Microsoft Office for the Mac – Microsoft Office for Mac 2011 – giving users new versions of Word, PowerPoint, Excel to run just like their Windows-loving friends and colleagues.
Already Microsoft has issued a critical update for MS Office for Mac 2011 which, amongst other fixes, patches a security flaw mentioned in their Patch Tuesday announcement.
If left unpatched, Microsoft Office for Mac 2011 could be exploited by a malicious hacker, allowing them to overwrite the content of your Mac's memory with dangerous code, such as a virus or Trojan horse.
Fortunately, Microsoft's Office product should automatically prompt users that a security update is available. But don't wait for that – go get the update now if you believe you could be affected.
It's bad news for users of the Mac versions of Microsoft Office 2004 and Office 2008, however. As ComputerWorld noted, they aren't yet available according to the current version of Microsoft's security advisory.

Hopefully those missing security updates will be available sooner rather than later.
Meanwhile, you may want to take a look at Sophos's free Mac anti-virus product which we launched last week for home users. After all, better safe than sorry.
In the future, remember that Patch Tuesday isn't just for Windows users – it's possible that Microsoft's security fixes could be relevant for you on your shiny Apple Mac computer too.