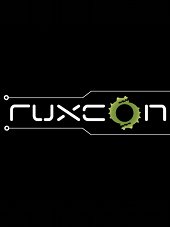 What are you doing over the weekend of 20 and 21 November 2010?
Will you be, or could you arrange to be, in the vicinity of 113 Queen Street, Melbourne 3000, Victoria, Australia?
If so, how would you like to enjoy a grassroots security conference which you can afford even if your company isn't willing to foot the bill? (Or which your company might be much more willing than usual to pay for?)
It's Ruxcon weekend!
Historically, the Ruxconference has been well-attended, sociable, fun, and supported by strong technical talks. Many of the people who turn up are techies – web developers, reverse engineers, penetration testers, database programmers, forensic data analysts, law enforcement officers targeting cybercrime, computer scientists, and more. But a whole raft of non-techies turn up, too. Auditors, policy makers, lawyers, privacy advocates, regulators, business analysts. Anyone, really, who wants to see computer security done well.
Ruxcon talks are excellent and technical, but what Americans call the "corridor track" – the unofficial conference session which takes place between talks, in and around the venue, in corridors, the lounge, the bar – is excellent, too.
As the conference's own website explains:
"Ruxcon is widely regarded as a leading computer security conference within Australia attracting all facets of the security landscape from industry professionals and academics to enthusiasts. Ruxcon is unique in that it believes that a security conference should be accessible and affordable to all levels of the security industry."
That's why it's just $80 for the whole thing, including social events. In fact, it's only $75 online. (Aussie, Canadian or American currency – they're all about the same right now. 100 Kiwi, I'm afraid.) It's also why it's held over a weekend – it means that Monday-to-Friday workers don't have to take leave to attend.
I'll be on the panel in the panel session on Saturday evening, and I also have a job to do on Sunday after the formal sessions end – I'm running the Conference Quiz!
So don't plan to rush off early on Sunday. Stick around until 6:30PM and you can have some real fun. Here's what's happening:
Sunday, 21 November 2010, 6:30PM - 7:30PM
Where: Ruxcon Venue Bar

Challenge (Kick Back or Compete Once the Speeches are Spoken!)

Imagine this: Spicks and Specks marries Rockwiz, turns unashamedly geeky, and gets a free bar.

That's the Ruxcon Sunday Night Challenge.

Throughout the conference you will get a chance to prove yourself worthy to be in one of our two quiz teams. Then you will do battle in front of an audience who probably know more than you do, who are themselves in front of a free bar, and have no reason not to show you up.

You know you want to participate - it's a great and social way to wind down after the conference! And to the audience -- you'll get a chance to help (or to hinder) the team of your choice by taking on the questions they can't deal with.

No need to revise, but if you fancy getting ahead, bone up on at least the following topics: cryptography, organic chemistry, analysis of algorithms, meteorology, numismatics, programming languages, music old and new, astronomy, fermentation and distillation, applied mathematics and CPU instruction sets. Or use the force. It's up to you.