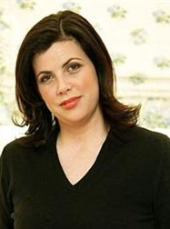 Plummy-voiced property crumpet Kirstie Allsopp has once again fallen foul of hackers on Twitter, who have been sending mischievous tweets from her account today.
The popular British TV presenter, almost as well known for her kitten-heeled dress sense as for her Channel 4 property programmes, has been struggling to repel intruders who have broken into her account and sent messages to her 60,000+ Twitter followers.
And the subject of many of her messages appeared to be her arch-enemy, Lord Sugar. (For those who don't follow celebrity squabbles, there has been something of a feud running between Miss Allsopp and entrepreneur Alan Sugar, with both taking personal potshots at the other via Twitter).
So, maybe some weren't surprised when Kirstie Allsopp tweeted out the following fruity message, referring to their appearance together on "Celebrity Apprentice":

Kirstie, however, distanced herself from the message, assuring her adoring public that she wasn't the kind of girl to talk dirty.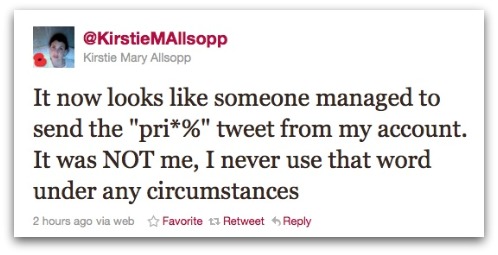 The mysterious messages baiting Lord Sugar didn't stop however. Here's another:

Kirstie said that despite changing her password, the intruder was still tweeting out mischievous missives.

If that's the case then my suspicion would be that Kirstie Allsopp has a third party application linked with her Twitter account, that the hacker is using. After all, all the errant messages appear to have been sent "via Twitter for iPhone" although Allsopp appears to prefer TweetDeck or Twitter's web interface herself.
She should visit her Twitter settings and check her "connections", revoking access to any applications that she no longer wishes to connect with her account.
Chris Boyd of Sunbelt has written some more about this incident on his blog.
PS. Poor Kirstie. It's only been a month or two since her Twitter account was spewing out iPad spam. Is she unlucky or just being careless?