We've been delighted by how the Mac community has responded to our release last week of a free anti-virus for Mac home users.
I'm not sure if the powers-that-be are allowing me yet to tell you precisely how many downloads it's had in the last week and a half, but let's just say "hundreds of thousands".
Free Anti-Virus for Mac
Download Sophos Anti-Virus for Mac Home Edition

We've had many many users telling us about the malware they've found since installing the program – and yes, not just Windows viruses and Trojans, but malware written specifically for Mac OS X too.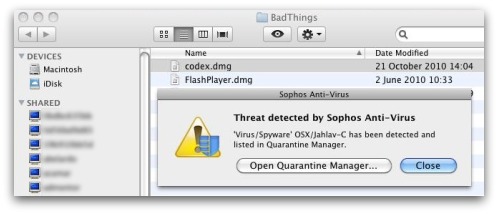 Not only have the download figures been astronomical, but it's also received some great reviews. Clearly there are folks out there who like the idea of running an anti-virus on their Mac! Especially if it's free!
One of the things I really like about our free Mac product is that it doesn't nag you into purchasing a "professional" version of our software like some other freebie anti-viruses for Windows do. We're just happy for home Mac users to run it and protect their gorgeous computers.
So, what's the catch? Well, there isn't one.
If you have a Mac at home, you can download Sophos Anti-Virus Home Edition for Mac without having to give us your details and without a time limit. You don't need to sign up for a password, and we won't stop your updates after a few months and ask for a fee.
Nice of us, eh?
My colleague Paul Ducklin explained it well in this interview he did with TechDay in New Zealand:
"It's free of charge. So we're not making you pay money. It's free from registration. So we're not making you pay by selling your contact details onwards. It's free from expiry. So we're not hoping to sting you for upgrades later on, once you're 'hooked'."

"Seems like we can't win this one.. If we tell home users of Macs they might consider taking cybersecurity - in particular, protection against malicious code - more seriously, people say we're ambulance chasing to FUD them into buying our software, even though we don't sell consumer versions of our software. If we give it away, we're plotting something for the future."

"Take it at face value. It's free of charge to home users. No registration and no expiry."
So, why are we giving it away for free to home users? Well, I thought that would be obvious. It makes people think we're cool and gets our name out there. That should help us sell even more software to businesses. In other words, it's all about brand awareness.
It's pretty cool that you can benefit at home from us wanting to raise our brand awareness.
Of course, we're not made of money, and so we can't give users of our free home Mac anti-virus the same high level of support that we offer our paying business customers.
However, there is a support forum where we ask users of Sophos Anti-Virus for Mac Home Edition to post their questions, and hopefully help each other with solutions.
Free Anti-Virus for Mac
Download Sophos Anti-Virus for Mac Home Edition

Stay safe.