With the help of my trusty pink crayon, I'm going to explain how the "OMG! Looks What Happens When DAUGHTER and FATHER Meet on CHAT ROULETTE!!" scam works.
First, you see a message looking something like the following on Facebook, posted by one of your friends: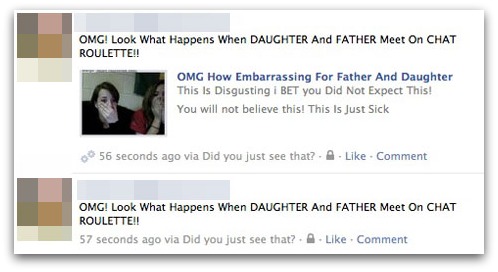 OMG! Looks What Happens When DAUGHTER and FATHER Meet on CHAT ROULETTE!!
OMG How Embarrassing For Father And Daughter
This Is Disgusting i Bet you Did Not Expect This!
You will not believe this! This Is Just Sick
Tempted to click? Well, if you are a regular reader of the Naked Security blog you should know the score by now. But just in case you don't, here it is illustrated with handy arrows..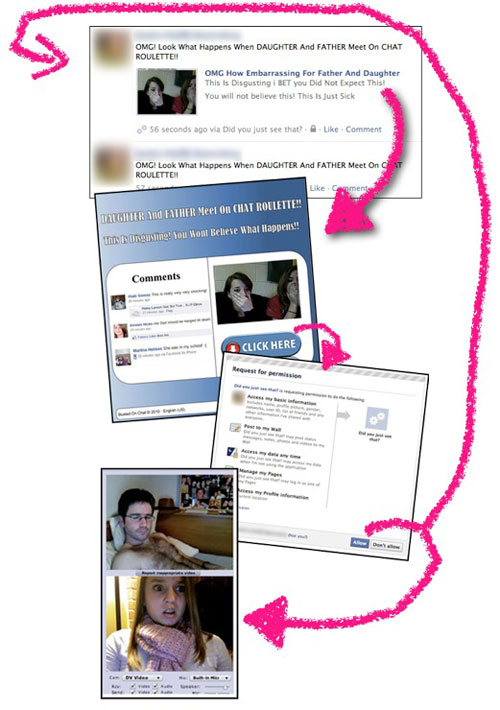 You are tricked into giving permission for a rogue third party application to access your profile. That means they can post messages to your wall, peruse your personal information and so forth.
They might show you an image of an alleged father and daughter meeting on Chat Roulette, but chances are they'll also try to make you complete a revenue-generating survey via CPALead too. Oh, and in the meantime, your Facebook profile has now blasted out the spam message to all of your online friends as well – thus spreading the scam virally.
And so the scam has gone full circle.
If only you hadn't clicked on the link, eh?
If you've been hit by a scam like this, remove references to it from your newsfeed, and revoke the right of rogue applications to access your profile via Account/ Privacy Settings/ Applications and Websites.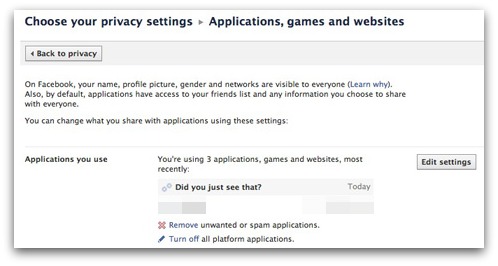 Here's a YouTube video where I show you how to clean-up your Facebook account:
(Enjoy this video? You can check out more on the SophosLabs YouTube channel and subscribe if you like)
If you're a member of Facebook and want to learn more about security threats you should join the thriving community on the Sophos Facebook page.
Do you think Facebook is doing enough to stamp out survey scams like this, or is it the fault of the Facebook users themselves? Let us know what you think by leaving a comment below.