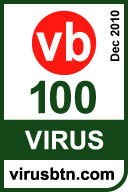 I'm proud to announce another VB 100 certification for Sophos Anti-Virus 9.5 in the December 2010 test.
We once again have achieved a 100% result on both in the wild samples and polymorphic malware showing our consistent performance of reliable detection of malware. The test platform this round was Windows 7 Professional and we achieved a RAP score of 84.2% demonstrating consistency of detection for both reactive and proactive protection.
Notably Symantec chose to sit this one out which is more than a touch odd considering how prominent Windows 7 has become. As Virus Bulletin commented they expected this test to be a monster as nearly every vendor must show effectiveness in the fastest growing operating system in the world.
As always our thanks go out to SophosLabs for their dedication to not only reacting to the latest threats, but also creating solutions to stop emerging threats before we have a need to react. Reducing the attack surface (don't install stuff you don't need) and implementing preventive technologies (HIPs, BOPs, etc) are key to achieving the scores we have with Virus Bulletin, and are key to properly securing your PCs.
As we say in our podcasts, until next time stay secure.