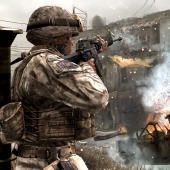 It feels like you can't turn your back for a second without another story about distributed denial-of-service (DDoS) attacks popping up.
This one, however, has nothing to do with WikiLeaks and instead involves a co-ordinated cyber attack against a website running the popular "Call of Duty" video game.
According to news reports, a 17-year-old British teenager was arrested early on Thursday morning by computer crime police in the Beswick area of Manchester under suspicion of using malware to make the "Call of Duty" website unreachable by many online gamers.
A malicious program called "Phenom Booter" is said to have been offered for sale online, giving purchasers the ability to score more points and stop other gamers from playing.
Activision, the publisher of "Call of Duty" contacted police in September when they noticed the impact on their servers.
The youth, who has not been named, is being charged with offences under the Computer Misuse Act.
You may think that disrupting an online game server is a victimless crime, even for a game as popular as "Call of Duty", but don't forget that video gaming is a huge business – and the impact on publishers if their games are disrupted by malicious hackers can be significant.