TweetMeme, a service which tries to work out which are the most popular links being spread via Twitter, has unfortunately helped spammers overnight promote a make-money-fast "work from home" website.

Thousands of Twitter accounts have been posting messages like the following in the last few hours:
hey everyone you've got to check this out I made $560 today so far [LINK]
or
check out this article! I made $200 today! [LINK]
or
CNBC7 - Work at home mom makes $6,795/month working part-time from home [LINK]
Clicking on the link takes you to a website called CNBC7, which poses as a genuine news website but was actually registered from China less than a week ago.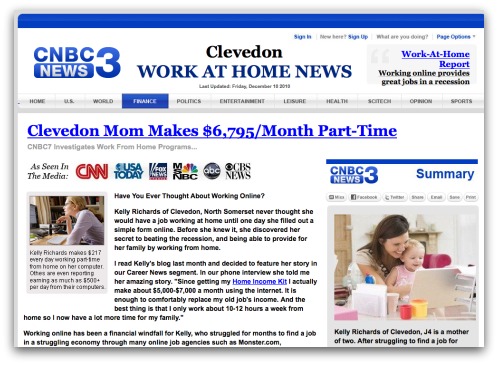 As we've seen in other scams of this type, the site claims to have been featured in the mainstream media (CNN, USA Today, Fox News and others are listed) and that you can earn between $5000 and $7000 a month working from home.
However, the photos are grabbed from stock image galleries, and the site attempts to determine where you are visiting from to give a (fake) case study of someone close to you who is allegedly earning a small fortune working on their home computer while caring for two young children.
Hopefully you wouldn't be foolish enough to fall for such schemes.
Unfortunately, this particular stream of tweets, has caught the attention of TweetMeme, who have shared it with their almost 60,000 Twitter followers and their many website visitors.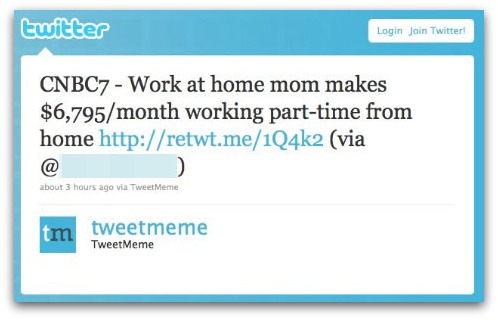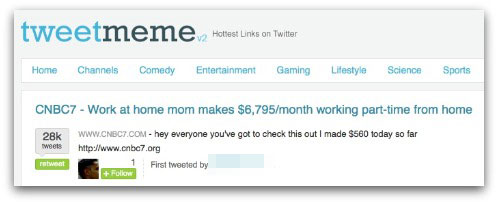 As the CNBC7 site, and others like it, are being actively advertised by social networking spammers the sensible course of action remains to stay well clear.