Another viral scam is spreading between Facebook users, tricking them into taking online surveys that earn commission for those who initiated the scam.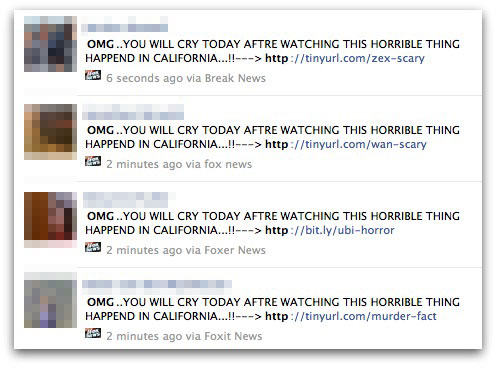 Thousands of Facebook users have found that their accounts have posted messages saying
OMG..YOU WILL CRY TODAY AFTRE WATCHING THIS HORRIBLE THING HAPPEND IN CALIFORNIA…!!--->[LINK]
without their explicit permission.
The messages are designed to trick you into clicking on them, with some pretending to come from legitimate breaking news outlets such as Fox News.
If you do click on the links, however, you are shown a series of messages that lull you into believing that you will be able to access live car accident video footage.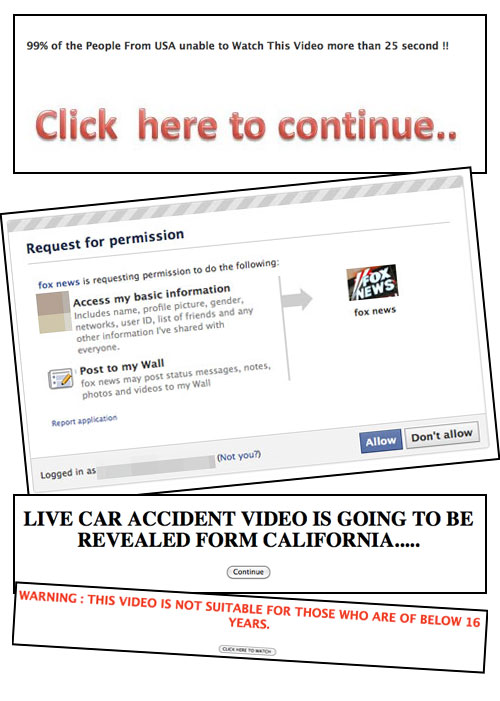 Sounds pretty ghoulish doesn't it? And you wouldn't be far from the truth if you felt that you'd have to be pretty sick to want to see such content – but the internet can be a rather sick place.
As part of the trap, you are asked to give permission for a third party application. If you don't grant permission for the third party Facebook app to access your profile (and post messages to your newsfeed) then you will not be able to see the video, or so the scam claims.
It's therefore sadly predictable that many Facebook users are falling for the scam, which ultimately takes them to an online survey. Guess what? Yes, the scammers earn commission every time you complete a survey.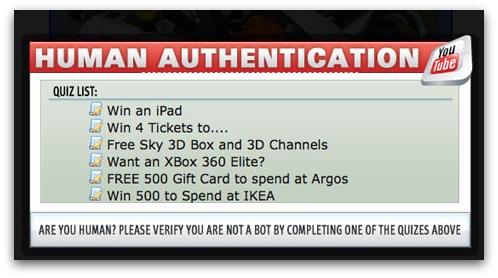 But if you did grant permission to the application, it has now posted the message to your own Facebook profile – spreading the scam even further.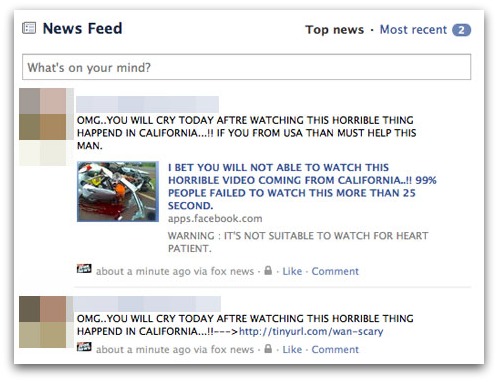 If you have been hit by a scam like this, delete the messages from your profile and remove the rogue applications that have access to your account.
Here's a YouTube video where I show you how to clean-up your Facebook account:
(Enjoy this video? You can check out more on the SophosLabs YouTube channel and subscribe if you like)
If you want to learn more about security threats on the social network and elsewhere on the internet, you could do a lot worse than join the Sophos Facebook page.