Do you recognise this man?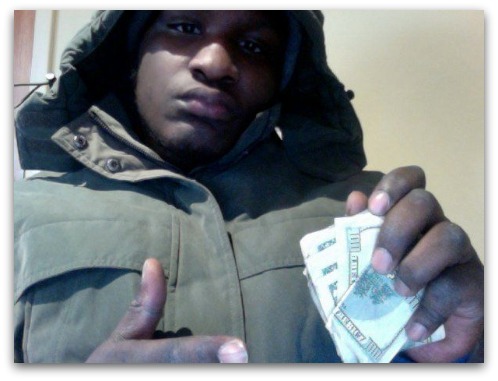 If so, Marc Fisher, a reporter and editor at the Washington Post would probably like to hear from you.
The photograph shows a man, wearing Marc's brand new winter coat, and holding a wad of notes that he's lifted from Marc's 15-year-old son's desk.
Not only was cash stolen in the burglary, but Marc's son's laptop, iPod, and some savings bonds were also taken.
What's astonishing is that the thief also decided to open the stolen computer, take a picture of himself posing with the stolen items, and posted it on Marc Fisher's son's own Facebook account.
You can read the full story on the Washington Post website where the reporter appears to be underwhelmed by the police's response so far, but at least reports that Facebook acted quickly to shut down the burglar's access to his son's account.
You have to wonder just how far Facebook addiction has gone for someone to feel compelled to upload evidence of their crimes while still out on the job.
Update: In February 2011, 19-year-old Rodney Knight plead guilty to second-degree burglary in connection with the incident described above.
Prosecutors said that Knight had stole about $400 in cash, as well as a coat and two laptop computers.
Knight also admitted one count of carrying a pistol without a license, in an unrelated incident to the burglary.
In May 2011 he was sentenced to 3.5 years in prison (27 months for the burglary and 17 months for the weapons offense).