Right now, many Facebook users are seeing messages from their online friends saying:
wow I just got a Free Dancing Snowman for my farm grab yours from [LINK]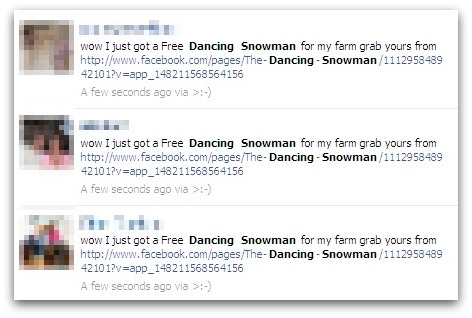 If you click on the link you are taken to a Facebook page which says "Yeehaw! The raving snowman – Click on him if he dances you can adopt him free".
Sure enough, if you click on the image of the snowman he will dance as though he's listening to early 1990s acid house music.
All very amusing, and no doubt some people will be tempted to "claim" the snowman and click further.
Doing so will present a page which asks you if you want to republish information about the dancing snowman on your Facebook page.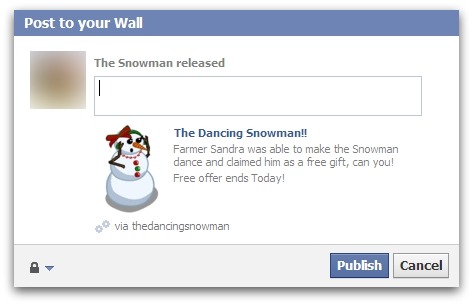 If you decline, you're told you won't be able to have the dancing snowman until you've republished news of him to your Facebook friends. So, frankly, you'll have to choose – you either have to share information about the dancing snowman or lose the chance to "adopt" him.
That's probably enough to get most people to agree to republish details of the dancing snowman, judging by the sheer number of Facebook profiles we are seeing referring to it.
A page then appears telling you that you have only 17 minutes to complete an online survey, as only "Superfarmers" may have the dancing snowman.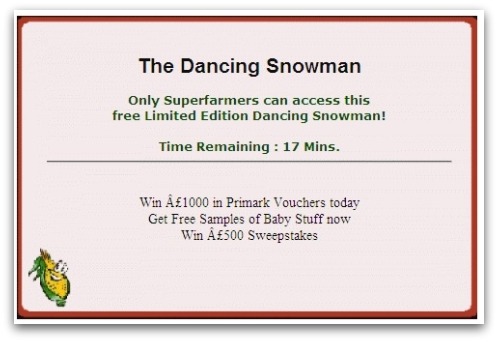 At this point, I'm still unclear what the dancing snowman actually is – is it a desktop toy I will be sent that I can amuse my office colleagues with, or is he simply an animated icon that I'll be able to put on my Facebook wall? It hasn't been explained.
Nevertheless, if you do decide to move forward with the surveys then you will be asked to hand over your full name and address, phone number, full date of birth, and other personal information. You should, of course, have alarm bells ringing in your head as to why somebody needs this and – importantly – who on earth is going to access this information.
Meanwhile, behind the scenes, your Facebook profile has been updated to advertise the dancing snowman to your friends.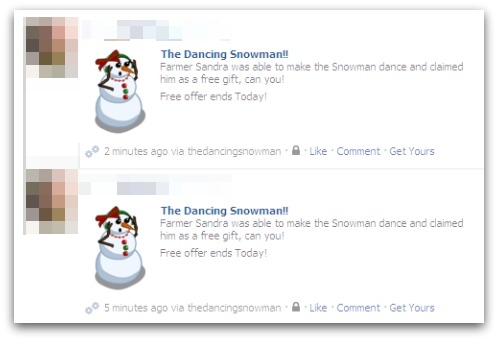 The precise intentions of this message spreading virally across Facebook isn't entirely clear, but whoever is behind it appears to be being very successful at getting users to click on their links and – presumably – completing the online surveys. At the very least, it's annoying spam.
Of course, the Facebook users who have been hit by this aren't exactly blameless. They agreed to share the message and complete the survey. They can't shrug their shoulders of all responsibility and say it's just Facebook's fault that messages like this are able to spread.
My advice? You're unlikely – even if you wanted one – to receive a dancing snowman, but are being asked to hand over personal information to unknown parties. Don't click on the links and learn to be more suspicious in future.
My only hope is that more Facebook users will make it their New Year's resolution to show more care about the links that they click on.
If you want to keep one step ahead of the various threats that appear on Facebook, you should join the Sophos Facebook page today. Over 40,000 people have already joined the online comminity and are sharing advice and tips with each other.