With Christmas just around the corner, plenty of people will be buying last minute presents from online stores like Amazon. As you buy presents for loved ones online, you're always slightly nervous if the gift is going to arrive on time.
And that's just what malicious hackers are preying on today.
Researchers at SophosLabs have intercepted a malware campaign that has been spammed out, pretending to be a notice from Amazon.com.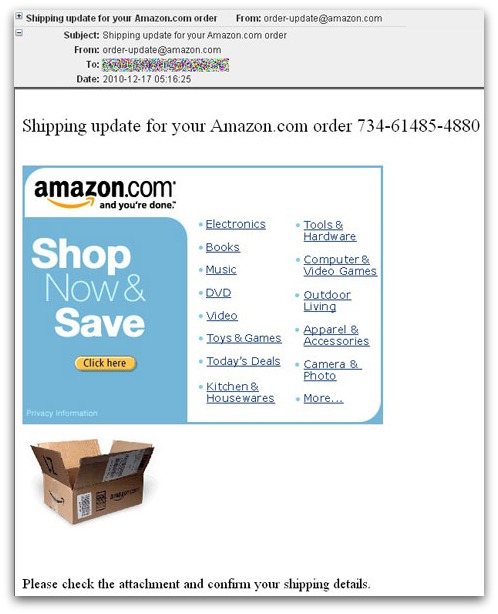 The emails, whose headers are forged to pretend to come from order-update@amazon.com, have the following characteristics:
Subject: Shipping update for your Amazon.com order
Message text: Shipping update for your Amazon.com order [number]
Attached file: Shipping documents.zip
Whatever you do, however, don't open the attached ZIP file as it contains malware. Sophos detects it as W32/AutoRun-BHY and the ZIP file as Troj/BredoZp-BD.
Remember that cold-hearted cybercriminals don't give a fig about it being Christmas. For them it's just another opportunity to fleece the unwary by infecting their computers, stealing data and taking over PCs for their own devices.