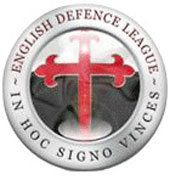 Members of a far-right organisation have been told to remain vigilant after hackers stole a database containing names and addresses from an online store.
The controversial anti-Islamist English Defence League has emailed its supporters after a security breach on one of its websites appears to have allowed hackers to get away with a sensitive database of members' details.
According to a BBC News report, a group called the "Mujahideen Hacking Unit" stole the database of members who had recently purchased items from an English Defence League (EDL) online merchandise store or who had donated money to the group.
The EDL says it has told the police about the security incident, and has sent an email to members apologising for the breach. As the English Defence League is a controversial organisation there will inevitably be fears that members or their families could find themselves under an unwanted spotlight if the details are published on the net.
Many people don't support the English Defence League, of course, but that doesn't mean that it's acceptable to break into systems and steal personal identifiable information about its members.
It's not the first time that right wing British groups have had problems keeping hold of their confidential membership lists, of course. In late 2008, a membership list belonging to the British National Party (BNP) was published on the web, causing much alarm amongst its supporters.
A former senior member of the BNP was subsequently fined for leaking the sensitive information online.
So, what can other organisations and companies learn from the security breach at the English Defence League and other incidents?
Well, you should be doing more to control the movement of sensitive data inside your organisation. Sophos has integrated data loss prevention (DLP) capabilities into its Sophos Endpoint Security and Data Protection products at no extra charge – enabling businesses to have visibility and control over sensitive data.
Use technology to prevent anyone from trying to steal your data, intercepting files which contain sensitive information such as names and addresses. Also, makes it easy to securely share data by using encryption – that means, even if the bad guys steal your information they won't be able to decipher it.