What are the odds that you and your friends posted your very first messages on Facebook on precisely the same day? May 2nd 2008.
Wouldn't it be even more remarkable if you posted that very first message at the same time? 6:57am.
And wouldn't it utterly blow your trousers off if you discovered that you and your friends also posted the same message at the same time on the very same day? What are the chances, eh?
Well, it's obviously not true. But a new rogue application spreading voraciously across Facebook appears to be claiming precisely that.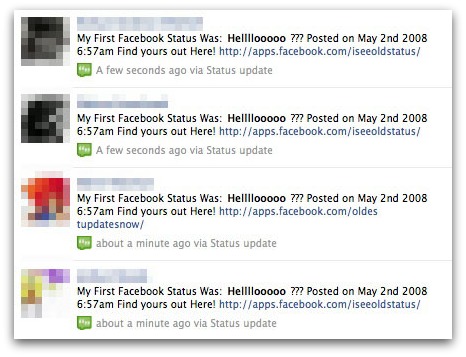 My First Facebook Status Was: Hellllooooo ??? Posted on May 2nd 2008 6:57am Find yours out Here!
Please don't click on the link. It will take you to a rogue application which will then try to post from your Facebook account as well.
Just because your friends may have fallen for this scam, doesn't mean that you should too. Be smarter than them, and stay clued up about the current tidalwave of scams we see spreading on Facebook by joining the Sophos Facebook page.
Here's a YouTube video where I show you how to clean-up your Facebook account if you were hit by this, or similar scams:
(Enjoy this video? You can check out more on the SophosLabs YouTube channel and subscribe if you like)
Take care folks. Facebook is becoming awash with these types of scams, and far too many people are falling for them.
Update: Other versions of the scam have spread since this article was initially published using alternative wording. Examples include:
The first thing I posted on fb was : Wow this is way better than myspace
They posted this status on O9/13/2008

Find your first status --> [LINK]
Skip ad in top right after you clicked the link.
and
My 1st Status was: 'well look who made it to fb'. This was posted on 1/2/2008
Hat-tip: Thanks to our friends at the Scam Sniper blog who sent us a tip telling us about this scam.