At the weekend I received a curious email with the subject line "Important ecard notification".
Having worked in the computer security industry for many years, I knew it was likely to be up to no good, but I was quite bemused by the other email addresses it had cc'd into the message.

Wow – that's my old email address from when I used to work at the late, lamented Dr Solomon's anti-virus company – I haven't had access to that email address since the 20th century, but somehow the spammers have managed to grab it.
And Lord knows where they've got that Microsoft address from – maybe they know something I don't? I wasn't even aware that I'd ever worked for them!
You shouldn't, of course, click on links sent to you in unsolicited messages like this. Even if you do know someone called Bertha.
But I bravely investigated on your behalf. And if you do follow the link, you get taken to a webpage which has a message designed especially for you.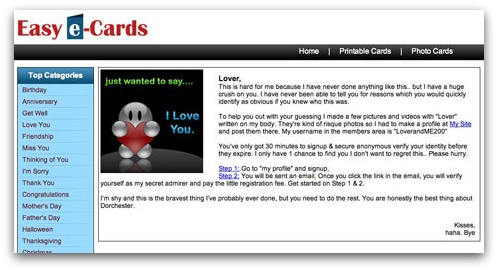 Lover,
This is hard for me because I have never done anything like this.. but I have a huge crush on you. I have never been able to tell you for reasons which you would quickly identify as obvious if you knew who this was.

To help you out with your guessing I made a few pictures and videos with "Lover" written on my body. They're kind of risque photos so I had to make a profile at My Site and post them there. My username in the members area is "LoverandME200"

You've only got 30 minutes to signup & secure anonymous verify your identity before they expire. I only have 1 chance to find you I don't want to regret this.. Please hurry.

Step 1: Go to "my profile" and signup.
Step 2: You will be sent an email. Once you click the link in the email, you will verify yourself as my secret admirer and pay the little registration fee. Get started on Step 1 & 2.

I'm shy and this is the bravest thing I've probably ever done, but you need to do the rest. You are honestly the best thing about Dorchester.
Shame I don't actually live in Dorchester, eh? Clearly their Geo-IP lookup leaves something to be desired.
If you did follow their instructions, however, you would find yourself signing up for an adult dating website which has an emphasis on extra-marital affairs with no strings attached.
Hmm.. you have to wonder how many people genuinely want to sign up for a creepy website like that, if it is having to be advertised through such elaborate and spammy methods.