A scam is spreading rapidly across Facebook, luring users into clicking on a link, using messages like the following:
This American GUY must be Stoned to De@th for doing this to a GIRL: [LINK]
Other versions can read, in a seasonal twist:
This American GUY must be Stoned to De@th for doing this to a GIRL on Christmas Eve: [LINK]
If you are tempted to find out what "this American guy" did to a girl that means he "must be stoned to death" (or "de@th" as the scammers put it), then you're presented with a fake video thumbnail which shows a young woman in her skimpy underthings, standing by a locked door.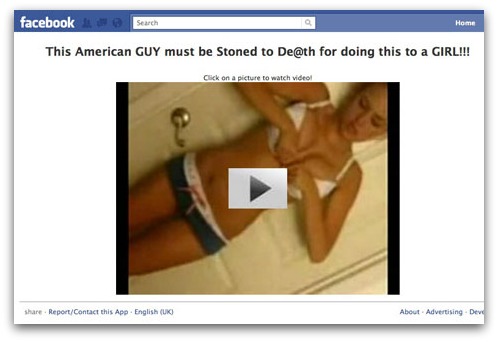 You can imagine that this is going to be hard for many hot blooded males with a twitchy mouse finger to resist. But from there on, it's pretty much the same old story that we've described on many other occasions.
You are tricked into giving permission to a third party application (including giving it the rights to post to your Facebook page)..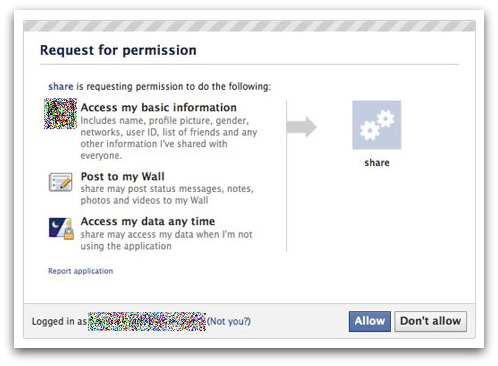 An online survey pops up, pretending to be a Facebook anti-spam verification (but really designed to earn the scammers commission for every survey completed..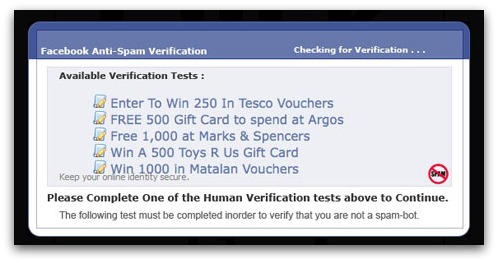 And meanwhile, your Facebook profile has spread the message on virally to your other Facebook friends – thus helping the scammers make even more cash.

Here's a YouTube video where I show you how to clean-up your Facebook account if you were hit by this, or similar scams:
(Enjoy this video? You can check out more on the SophosLabs YouTube channel and subscribe if you like)
If you're a member of Facebook don't forget to join the Sophos Facebook page to stay up-to-date with the latest security news.