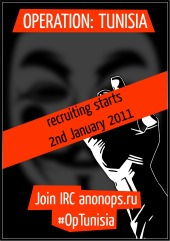 Hacktivists have struck a number of official websites in the African country of Tunisia, seemingly in response to the government's attempts to block access related to leaked cables that related to the country.
According to The Guardian, Tunisia and other Arab nations have tried to control the flow of WikiLeaks-related information into their country by blocking websites and banning overseas newspapers.
Members of the loosely-knit Anonymous group gathered on an Internet Relay Chat (IRC) forum yesterday, and singled out various official Tunisian websites for attack.
Impacted websites that appear to have been brought down by the distributed denial of service (DDoS) attack include that of Tunisian president Zine El Abidine Ben Ali and the government's official website:

A statement posted on Anonymous-related websites explained the reason for the attack:
"The Tunisian government wants to control the present with falsehoods and misinformation in order to impose the future by keeping the truth hidden from its citizens. We will not remain silent while this happens. Anonymous has heard the claim for freedom of the Tunisian people. Anonymous is willing to help the Tunisian people in this fight against oppression. It will be done. It will be done."

"This is a warning to the Tunisian government: attacks at the freedom of speech and information of its citizens will not be tolerated. Any organization involved in censorship will be targeted and will not be released until the Tunisian government hears the claim for freedom to its people."
Anyone considering signing-up to join in the attacks on the websites of various governments (we recently saw Zimbabwe similarly targeted) would be wise to remember that participating in a DDoS attack is against the law.