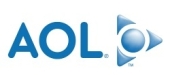 A few of you may have noticed that the last digit of the year changed recently, which means it's time to forget about the bad old days of 2010, make New Year's resolutions, and cross fingers for a better future.
Some of you may already have fallen by the wayside in your pledge to no longer eat chocolate, or give up cigarettes, but here's one thing I urge you to show greater will-power over: stop believing everything you read in email.
Scammers, malware authors and phishers continue to prey on the unwary by writing semi-believable things in a friendly font. Although many skeptical computer owners may consign such emails immediately to the garbage bin, there are always a few vulnerable folks who click before they think.
Take this current phishing campaign aimed at AOL users, for instance.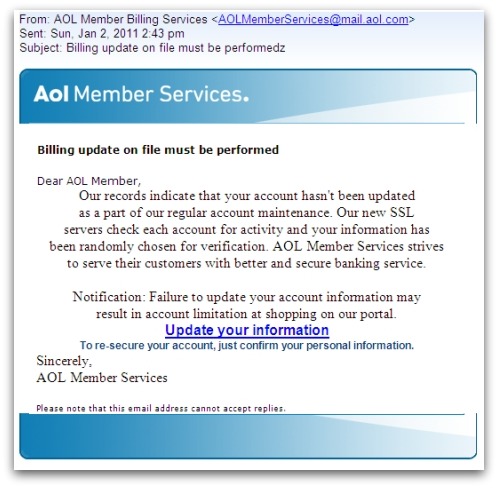 It reads, in part, as follows:
Our records indicate that your account hasn't been updated as a part of our regular account maintenance. Our new SSL servers check each account for activity and your information has been randomly chosen for verification. AOL Member Services strives to serve their customers with better and secure banking service.

Notification: Failure to update your account information may result in account limitation at shopping on our portal.
If you make the mistake of clicking on the link you are taken to a website that isn't AOL at all, but asks for all kinds of personal information: your name, address, credit card details, your AOL username and password, date of birth and even social security number!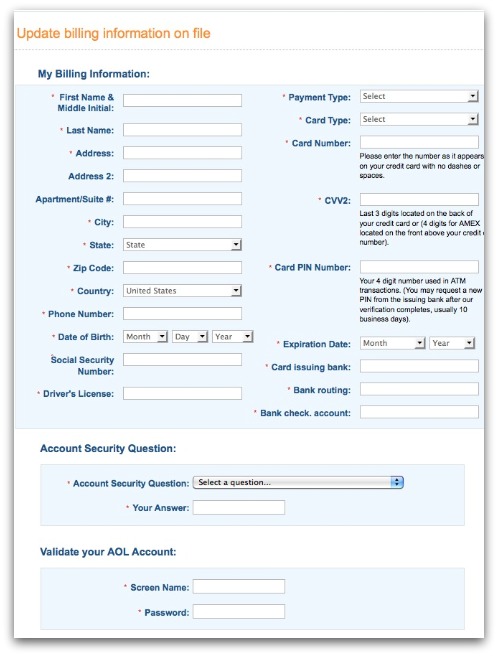 Many people still believe that phishing only targets your online bank account – it's a big mistake to think like that. Cybercriminals are also interested in breaking into your email and social networking accounts too.
Get smart in 2011, and learn to be more suspicious of emails that may be asking you to hand over too much personal information.