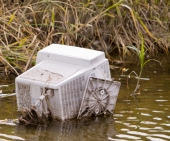 A new report by Sophos has revealed the top twelve spam-relaying countries – and, once again, it's bad news for the United States.
Many members of the public still don't understand the vital role that they can play in fighting spam – preventing their home PC from becoming infected.
What many people haven't learnt is that the spammers don't use their own computers to send spam – instead they create botnets of compromised PCs around the world (also known as "zombies"), which they can remotely command to spew out unwanted marketing messages, malicious links and even launch distributed denial-of-service attacks.
SophosLabs has just published its latest report into the top countries relaying spam around the world.
The top twelve spam relaying countries for October – December 2010
| | |
| --- | --- |
| 1. USA | 18.83% |
| 2. India | 6.88% |
| 3. Brazil | 5.04% |
| 4. Russia | 4.64% |
| 5. UK | 4.54% |
| 6. France | 3.45% |
| 7. Italy | 3.17% |
| 8. S Korea | 3.01% |
| 9. Germany | 2.99% |
| 10. Vietnam | 2.79% |
| 11. Romania | 2.25% |
| 12. Spain | 2.24% |
| Other | 40.17% |
In all, we counted spam being sent from an astonishing 232 countries around the world during the last quarter of 2010. So everyone, no matter where they are on the planet, should be taking more care of their personal computer's protection.
Spam takes a dip?
One aspect of the spam problem which has caught the attention of security reporters in the last few weeks is what appears to have been a drop in spam levels since Christmas.
It appears that some of the botnets used to send a lot of the spam (Rustock is the most notable one) may have stopped pumping out unwanted messages in the last few weeks. That doesn't mean that computer users have cleaned-up their home computers, but rather that the bad guys are now using the botnet for other activities. For instance, installing revenue-generating pop-up adverts or identity theft from unsuspecting home users.
Maybe the cybercriminals wanted to see if they could make a better return that way.
Whatever the reason, the dip appears to have been short-lived, as yesterday the amount of spam appearing in the SophosLabs feeds has spiked back up again.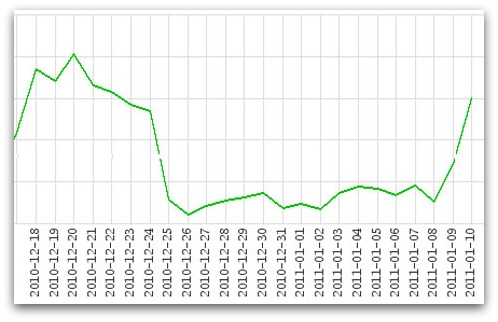 Don't add to the statistics, do your bit in the fight against spam and don't allow your computer to become a zombie. Keeping your security patches up-to-date, your anti-virus defences in place and having a good helping of common sense can help avoid your computer from becoming infected, and silently turned into a spam-relay machine for the bad guys.