A scam has spread far and wide across Facebook this weekend, posted on many users' Facebook pages claiming that they have discovered that their zodiac sign has changed.


Messages include:
The Zodiac Signs changed in 2011.
I was a [ZODIAC SIGN] now I'm a [ZODIAC SIGN]

Find out your new zodiac sign @ [LINK]
and
OMG They changed the Zodiac Signs !!
I'm now a [ZODIAC SIGN].. (was a [ZODIAC SIGN] before!)
To find yours, use [LINK]
If you make the mistake of clicking on the link shared from your friend's Facebook account, then you are taken to an interim page showing the signs of the zodiac floating in outer space. The page is designed to intrigue you into clicking further to discover your "new zodiac sign".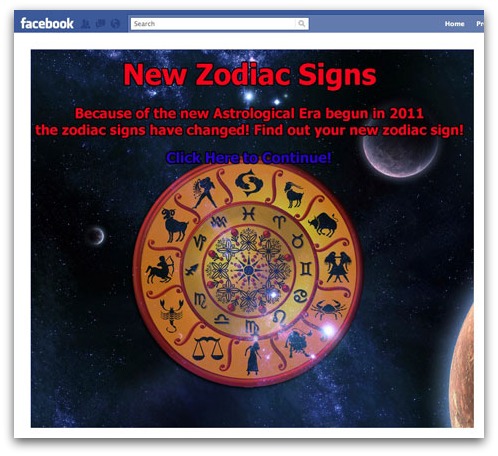 The webpage reads:
New Zodiac Signs

Because of the new Astrological Era begun in 2011 the zodiac signs have changed! Find out your new zodiac sign!
Click here to continue
Clicking on the image takes you to an all-too-familiar scene. A rogue third-party Facebook application, which is demanding that you give it access to your Facebook profile. If you do give it permission then the application will be able to grab some of your personal data, as well as post messages to your wall in order to share them virally with your Facebook friends.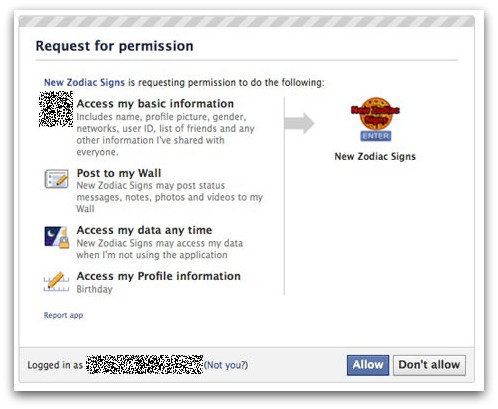 As soon as you press "Allow" don't be surprised that silently, in the background, the app has already posted a message to your wall..

Meanwhile, you will be asked to complete an online survey, which can make money for the scammers.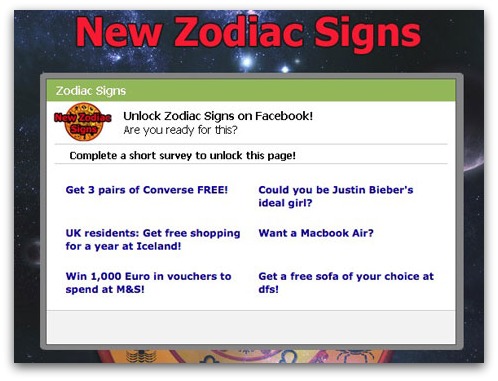 Here's what another version of the survey scam looks like: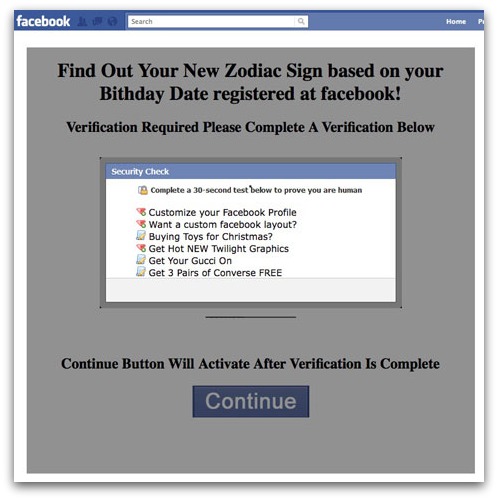 Remember – you should always think twice (and maybe three times!) before allowing an application to access your Facebook profile, as there are many rogue apps designed purely to make money for the scammers and spread their viral schemes to as many users as possible.
Oh, and in case you were wondering, your zodiac sign hasn't changed in 2011. CNN does a good job of debunking the rumour on its website. So there really is no point at all in clicking on a link like the one being spread by the scammers.
Of course, you might be – like me – of the opinion that all talk of astrology and zodiac signs is nonsense. In which case you wouldn't care anyway.
You can find out more about this particular Facebook scam on the Scam Sniper website.
I've made a YouTube video where I show you how to clean-up your Facebook account if you were hit by this, or similar scams on Facebook:
(Enjoy this video? You can check out more on the SophosLabs YouTube channel and subscribe if you like)
Make sure that you stay informed about the latest scams spreading fast across Facebook and other internet attacks. Join the Sophos Facebook page, where more than 50,000 people regularly share information on threats and discuss the latest security news.