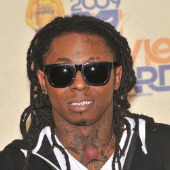 Lil Wayne's Twitter account has been taken offline, after someone hacked into the popular rapper's account this weekend and posted a series of joke messages.
A hacker, who seemingly guessed the singer's password, sent a series of bizarre messages to Lil Wayne's 1.2 million followers – including rude tweets to celebrity pals 50 Cent, Soulja Boy and The Game. According to AllHipHop.com, some of the language used was highly offensive.
Mind you, any fan of music like that is probably used to distasteful language.
Lil Wayne has now shut down his Twitter account, which went by the name @liltunechi. To be honest, he hasn't had the best of times on Twitter – his page was previously hacked late last year, with fake news being posted about upcoming performances.
Clearly if he can't keep control of his Twitter account, it's better that it be disabled.
If nothing else, this case proves that just because a Twitter account is "verified" it doesn't mean that it really is the celebrity (or an authorised representative) who is doing the tweeting.
Other celebrities who have had their Twitter accounts hacked in the past include Axl Rose, politican Ed Miliband, Britney Spears and plummy-voiced TV property crumpet Kirsty Allsopp.
Make sure that you always choose a non-dictionary word that's hard to guess as your Twitter password, and never use the same password on multiple websites.
Also, be on your guard against phishing sites and ensure that your computer is running up-to-date anti-virus software to protect against keylogging spyware which may attempt to steal your information.
Finally, consider carefully which third-party applications and websites you allow to connect with your Twitter account.
Image of Lil Wayne courtesy of Featureflash / Shutterstock.com.