It's hard enough for us to keep the Naked Security site up-to-date with the latest scams spreading virally on Facebook – no wonder Facebook Security finds it so hard to kill them off.
This one has been spreading for a couple of days, posing as a news story from one of your Facebook friends that someone who lives in their street has killed his girlfriend.

DAMN!!!! A guy that lives in my street killed his girlfriend today!! Take a look it's in the news : [LINK]
Variants of the scam read:
A young man killed his girlfriend after he found this secret message in her inbox : [LINK]
or
SHOCKING : He killed his girlfriend after he found a message in her inbox
As regular readers of Naked Security will know by now, clicking on such links isn't a good idea as they invariably lead to rogue Facebook applications. These trick you into "allow"ing them access to your Facebook profile, which means they can then post to your page and spread virally to your friends. The intention? To make money through revenue-generating scams.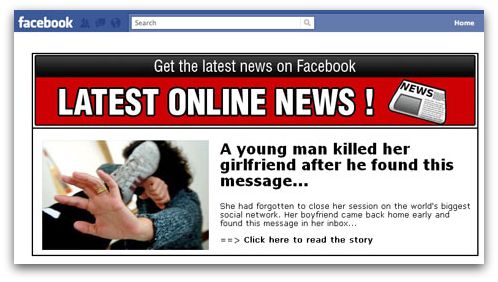 Once again, the scammers on Facebook have proven they're prepared to stoop to some pretty sick depths in their pursuit of easy cash.
If you have been hit by scams like this on Facebook, and are struggling to clean-up your profile, here's a YouTube video I made which describes what steps you need to take:
(Enjoy this video? You can check out more on the SophosLabs YouTube channel and subscribe if you like)
Make sure that you stay informed about the latest scams spreading fast across Facebook and other internet attacks. Join the Sophos Facebook page, where more than 50,000 people regularly share information on threats and discuss the latest security news.