Please allow us to toot the departmental horn for a second, as I am proud to announce that Naked Security has been named a finalist in two categories at the upcoming Social Security Blogger Awards.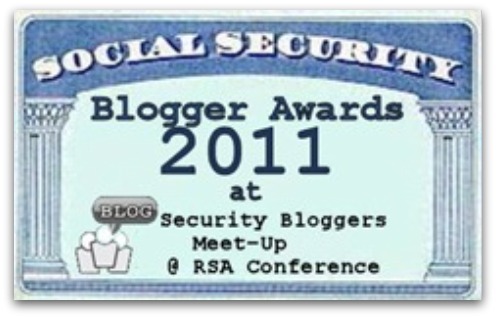 An all-star panel of celebrity judges (Bill Brenner of CSO Online, Ellen Messmer of Network World, Kelly Jackson-Higgins of Dark Reading and Larry Walsh of Channelnomics) took a long list of great security blogs and whittled it down to a handful of finalists in various categories.
There are some great and well-respected blogs which have been named as finalists, which means that we're particularly chuffed to tell you that Naked Security has been nominated in two categories:
Most educational security blog
Most entertaining security blog
The winners will be announced during RSA next month in San Francisco, and some of the Naked Security team will be present with their fingers crossed, either ready to leap on the pool tables or drown their sorrows with beer and pretzels.
Voting closes at the end of January, so there's still time to vote for your favourite security site. Hint hint.
Note: Under the voting rules you need to be a blogger yourself (you'll be asked to enter your own blog's URL when you vote).
Thanks to everyone who has supported Naked Security so far – we've got big plans for the future. Watch this space!