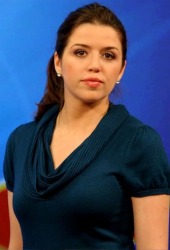 RT's The Alonya Show must have thought it had a great exclusive on its hands, when it announced it would be broadcasting an interview with a representative of the loosely-knit Anonymous protest group.
(In an earlier version of this article, I sloppily described Anonymous as a hacking group. Although there are hackers who support Anonymous, it's an inaccurate way of describing the group.)
After all, the British and United States authorities had announced that they had arrested scores of people suspected of participating in denial-of-service attacks that had disrupted websites belonging to well-known organisations.
Of course, it's not easy to tell with a group like "Anonymous" whether you're talking to a real spokesperson for the group or someone playing a prank on an over-excitable TV programme.
Check out the following YouTube video of the show and see if you can tell if the person being interviewed is genuine or not.
The jury is certainly out in this case.
After all, during the Skype interview with host Alyona Minkovski, the "source" can't resist crowbarring in some odd phrases seemingly for kicks. For instance,
"all of our base are belong to them"
and a reference to the classic internet meme inspired by 1980s pop crooner Rick Astley's chart-topping song:
"we're never gonna give you up, never gonna let you down"
There are even references to:
"bitch-slap"
and
"I am in lesbians with this question"
(Although I'm not sure if that last one was a slip of the tongue or not.. Update: Security blogger Kurt Wismer tells me it's a reference to a line used in the movie "Scott Pilgrim vs The World". It's further explored in the Urban Dictionary.)
It feels to me that perhaps the Alyona Show was so keen to interview a spokesperson from the computer underground, they might not have confirmed their interviewee's veracity.
Whether he's for real or not, I don't see why the mystery spokesman (who appears to have made no attempt to hide his accent, by the way) doesn't believe the FBI when they say that distributed denial-of-service attacks are illegal.
Umm.. don't you think that the FBI would know they were illegal? Or have these hackers with such firm convictions made their own legal enquiries to find out the truth before engaging in such attacks?
Do you think the Anonymous source was for real? Leave a comment below, and let us know your thoughts.