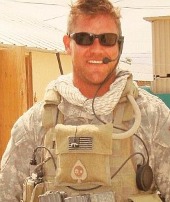 Divorced mother-of-three Kate Roberts imagined she had found the man of her dreams when she was approached on the Friends Reunited website by a handsome US soldier.
Unfortunately, the 47-year-old was falling into the arms of an internet scammer, who tricked her into sending a fortune she couldn't afford to lose in his direction.
Miss Roberts, from Melton Mowbray, Leicestershire, has shared her story with the media after she was conned out of £80,000. And the lonely divorcee could hardly afford to send a man she'd never met such a huge amount of money – she had to take out loans, credit cards and borrow from her family and friends to send the fake soldier money.
According to reports, the scam has left Miss Roberts in financial ruin, and forced her to sell her house to pay off the debts.
The whole sorry story is told in greater detail in the Daily Mail and in the Metro newspapers today, and is featured in a regional BBC television programme to be broadcast tonight.
The sad truth is that although there are bound to be plenty of honest, decent people on dating websites there are also love-cheats, fraudsters and liars. When people are looking for love they're likely to have blinkers on and ignore the nagging doubts in the back of their mind about the person who they are falling for..
There are certainly plenty of internet fraudsters out there pretending to be looking for love, when their real intentions are to con you out of your savings. For instance, we've written in the past about the Nigerian man who used a fake female dating profile to defraud a middle-aged Australian man out of $20,000 (approximately US $16,000), and the NASA worker who had her computer infected by spyware sent by a bogus online admirer.
If you have friends and loved ones who you believe might be vulnerable, make sure you help them ensure that both their heart isn't broken and their finances aren't ruined.