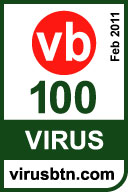 The latest edition of Virus Bulletin magazine has just announced its results from its Linux comparative tests.
This month, they focused on the "explosively popular" Ubuntu distribution, which was first seen on the VB100 test bench almost three years ago, in June 2008. Sophos Anti-Virus for Linux passed with flying colours, and easily earned its VB100 this month.
14 anti-virus products submitted their products to this month's comparative. According to Virus Bulletin's Technical Director John Hawes, "Obviously there are a lot more Windows security products out there than there are for Linux. Only the big serious players tend to support multiple platforms. It is important that all systems to be protected if only to prevent cross infection from more targeted platforms."
Just as with the tests that Virus Bulletin conducts on other operating system platforms, the VB100 title is only awarded if a product is capable of detecting all in-the-wild viruses in both on-demand and on-access modes without suffering from any false positives.
"As usual, Sophos did extremely well in this test. And, it was the easiest to install," commented Hawes.
You can find more details of the test in the February 2011 edition of Virus Bulletin magazine, published today.
Don't forget that you can read more about Sophos's long track record in independent comparative tests on our reviews page.