We get some pretty interesting feedback from readers of Naked Security from time-to-time, but this one takes the word oddball to all new heights of space-hopperdom.
A fan of the SophosLabs YouTube channel sent us a message with an unusual request: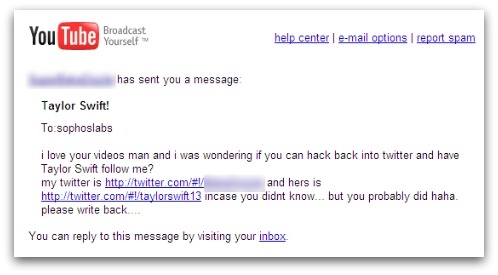 i love your videos man and i was wondering if you can hack back into twitter and have Taylor Swift follow me?

my twitter is [LINK] and hers is [LINK] incase you didnt know... but you probably did haha.
please write back...
Wow – that's true fan dedication. I know Taylor Swift is very talented, but imagine being such a worshipper of the young country pop singer that you would beg a computer security firm to break into her Twitter account so she'd hear what you have to say!
I checked out our correspondent's Twitter page. Judging by his wallpaper, he appears to be confirming his love for Taylor Swift, and may be hoping to jump in now that she's split up from boyfriend Jake Gyllenhaal.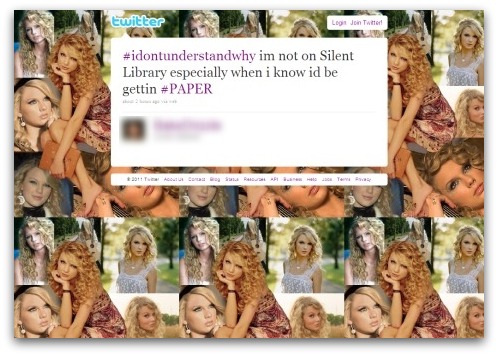 Unfortunately, though, this is one request from a Naked Security reader that we're not going to be able to help with – however politely he phrased it.
All the other Taylor Swift fans out there (and there are plenty of them – over 5.2 million people follow the singer-songwriter on Twitter) should note that she only follows 50 people on Twitter herself. Your best chance of her showing you any interest is to become a celebrity yourself, catch her eye on the Nashville music scene, or get a job as her minder in case Kanye West leaps onto the stage.
By the way, if you're on Twitter feel free to follow the Naked Security team of writers to get your up-to-the-minute security fix. Although, just like Taylor Swift, we can't promise that we'll definitely follow you back either..