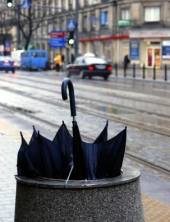 Is this for real?
An Australian newspaper reports that a 93-year-old woman has been scammed by criminals who rang her up, pretending to be Microsoft, and told her that she had a virus infection on her computer.
These scams, of course, are nothing new and we've warned users about them before.
The reason why this one caught my eye is the tall story that the criminals used to fleece Ailsa Hamblin, of Mornington Peninsula near Melbourne.
According to the media reports:
Mrs Hamblin was told recent heavy rain and storms had caused more computer viruses to circulate.
Yes, you read that right.
They said that bad weather could help computer viruses to spread. (Is this some kind of cloud-based security issue? Maybe they meant the Storm virus?)
And what's more (and seemingly without any pun intended), the report continues:
"It's high-pressure salesmanship," Mrs Hamblin said.
Meteorological jokes aside, we have to recognise that these fake tech support calls claiming that PCs belonging to computer users have fallen foul of malware are a significant problem.
As Sophos explained in a recent podcast, it can be hard for vulnerable people to tell the difference between a legitimate phone call and someone trying to scam you:
(Duration 6:15 minutes, size 4.5MBytes)
Make sure that your family and friends are on their guard against suspicious tech support calls telling them about infections on their computer – even if the callers do claim to be from Microsoft. It only takes a lapse of common sense for you to hand your credit card details straight down the line to a criminal.
Oh, and read the full story over on the Herald Sun website of how scammers are using the weather as an excuse for malware infections.