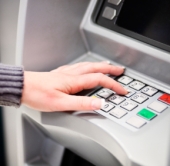 In late 2008, electronic payment service RBS WorldPay revealed that a gang of hackers had broken into its computer systems, stolen information to help them create cloned debit cards, boosted their withdrawal limits and stolen huge amounts of money from ATMs around the world.
Mules operated by the gang stole a total of over $9 million from more than 2,100 ATMs in at least 280 cities worldwide. All it took them was a jaw-dropping 12 hours to pull off their heist.
27-year-old Yevgeny Anikin was a key member of the cybercriminal gang, and purchased a luxury car and two apartments in the Russian city of Novosibirsk before being caught in 2009.
Remarkably, according to local media reports, Anikin has avoided jail. A court told him today that we would receive a five-year suspended sentence instead of a spell in prison.
Anikin says that he has begun to repay the money he stole and admitted his guilt:
"I want to say that I repent and fully admit my guilt," Anikin told the court.
Well, it's good that he has said he is terribly sorry – but I wonder if a stiffer sentence would have been handed out if, say, he had been tried in a US court? Is Russia being tough enough on cybercriminals?
Let's not forget that at the time of the robbery, Acting United States Attorney Sally Quillian Yates said that it was "perhaps the most sophisticated and organized computer fraud attack ever conducted."
In September last year another member of the gang, 29-year-old Viktor Pleshchuk, of St. Petersburg, Russia, received a six year suspended sentence, after agreeing to assist the authorities.